Similar to elite athletes, good retail operators are always looking for a way to get better, to gain an edge which helps propel their operation to the next level. Two franchisees for Walk On's Sports Bistreaux found that edge, and more, when they partnered with BeerBoard a little over a year ago.
Mike Lester of Walking Tall Brands, and Brandon Thompson of All In Restaurants, are leaders of successful stores under the Walk On's brand. Walk On's is a growing concept with up to 48 lines of draft beer and pouring massive volumes of liquid each month.
Independently, both Lester and Thompson introduced BeerBoard's industry-leading technology into their operations primarily to monitor draft beer volume, but each has since found success in revenue, cost of goods sold (COGS) and staffing efficiencies and performance.
Lester and Thompson recently shared their experience and success with BeerBoard, and how the technology is now ingrained in their operations.
IMMEDIATE BENEFITS
"We monitor everything in our restaurants very closely, but draft beer was the only thing we couldn't get a good handle on," said Thompson, whose All In Restaurants group has Louisiana-based stores in Alexandria, Fort Smith and Texarkana.
"As soon as we learned how BeerBoard could help us, it was an easy decision. We had multiple issues with the management of our draft program – theft, pouring liquid down the drain and managers having to weigh kegs. Once we came online with BeerBoard, our bottom line profit increased immediately."
Similarly, prior to partnering with BeerBoard, Lester's initial Walk On's location was experiencing COGS and inventory issues.
"Simply put, our inventory and COGS were not accurate and we didn't have a good way to measure," said Lester. "We had an open and honest conversation with our team that BeerBoard's platform was now going to be a part of our daily lives."
The Wesley Chapel store picked up the system extremely fast and had good variances throughout. Installing the solution in July 2020, they took their average monthly loss down below 5% and a much-improved 95.6% return per keg.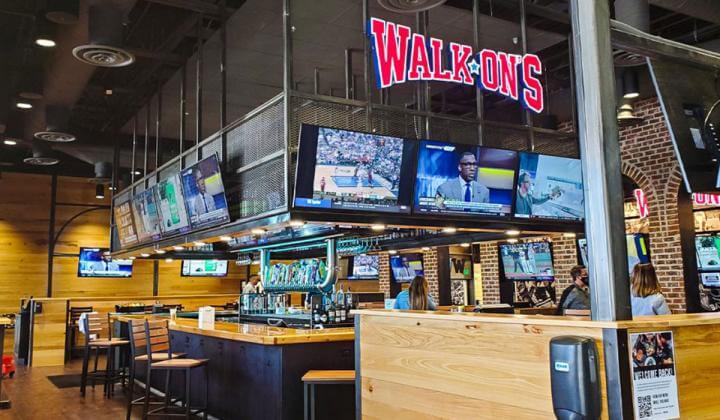 OPERATIONAL EFFICIENCY. IMPROVED BOTTOM LINE.
Following that initial period of success, Lester said March 2021 brought some unforeseen challenges which led to a second wave of rising beer costs, though they were quickly reigned in.
A confluence of events – the return of the NCAA basketball tournament, distribution of stimulus checks and customers coming back out in droves were key indicators.
"We were very busy during this period. It put added stress on our bartenders and they occasionally abandoned the process of accurate ring ups in the POS," he said. "We had to take a few minutes after each shift to review the reports with our bartenders, reinvigorate them and bring them back to the process. After that, with BeerBoard's technology and reporting in place, our loss tightened back up to even better than it was before."
Thompson said he also gives his staff insight to the variance reporting, but also uses it as a motivator.
"We allow our bartenders to see the reports from BeerBoard's system," he said. "We have actually turned it into a contest for them – who can have the lowest variance per shift. This has engaged our team in a new way and gets them excited. As much beer as we pour, that is a huge factor in our bottom line."
STAFF-EXTENDING TECHNOLOGY
As the on-premise continues its return, a challenge for operators in this new environment is staffing and, specifically, filling roles within the operation. With its real-time actions and insights, BeerBoard's technology gives leadership the ability to immediately act on areas of need and then return their focus to staffing and guest-related matters.
In his first meeting with the bar staff following activation of the BeerBoard platform, Lester said the bartenders told him the draft lines needed to be fixed as there were issues with foaming, pouring and regulators. He was shocked when they told him how long it had actually be going on.
"They had been dealing with these issues for six or seven months, which meant we were literally pouring money down the drain and it really opened my eyes," Lester said. "BeerBoard is telling you when something happens – it is right there in the data."
Lester said this has helped the entire operation run more efficiently. "Now, the second there is a problem, we can react and fix it immediately. BeerBoard has heightened our insights, accountability and profitability across the board."
For Thompson, the franchisee has seen the impact of BeerBoard help staff take a more global view of his Walk On's stores.
"My managers are into the BeerBoard system," he said. "They pay attention to everything now and look at how we can keep costs down. It motivates them to pay more attention to our business as a whole.
"Good management teams are aware of all the issues and have their team working well together. When that happens, everything is in-line and in-check."
Lester agreed. "BeerBoard provides a system to help everyone – ownership, managers and bar staff – do their job properly. The bottom line is, I want an engaged staff and to catch people doing things RIGHT. That is what drives good business."
LET BEERBOARD DRIVE YOUR BUSINESS
Interested in learning how BeerBoard and our solutions can help drive your business? Review our product bundles and contact us to get started today.