CLAIM YOUR BRAND TODAY!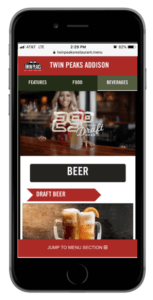 BeerBoard is launching SmartMenus to thousands of retailers across the country. A best of class solution, SmartMenus is a dynamic menu solution which puts a retailers complete food and beverage menu in a customers hands via their own mobile device.
Already proven to drive increased sales, SmartMenus has already revolutionized how retailers interact with customers, providing current menus with complete brand and nutritional information, including captivating video and images.
FREE to all brewers, Claim Your Brand integrates seamlessly with SmartMenus to allow brewers to control their brand and present current information to thousands of customers.
Log in to Claim Your Brand today to ensure your information is current and help drive more attention and sales for your brand.
New to CYB? Register Here.