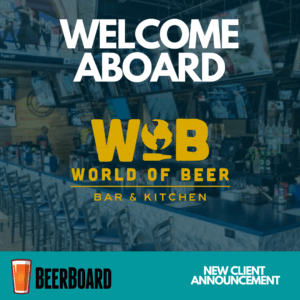 SYRACUSE, NY (July 18, 2022)  — BeerBoard, the leader in technology and automated intelligence for the on-premise hospitality industry, announced today that World of Beer has signed as its newest retail hospitality partner.
Headquartered in Tampa, FL, World of Beer was founded in 2007, when two best friends dreamed up the first location in a little neighborhood called Westchase in Tampa. What started as one of craft beers original bottle shops, the concept has grown to be a gathering place for beer explorers and food lovers alike.
After a successful pilot at select locations, World of Beer is committed to being a long-term partner and will be utilizing BeerBoard's industry-leading technology to digitize its bar management at each of its 24 corporate-owned locations across the United States.
The industry's most trusted technology, SmartOrders automates ordering and inventory, and digitizes the interaction between retailers and distributors. Retailers place orders directly through distributors and receive insights on perpetual inventory with recommended orders (brands and quantities) based on data. SmartOrders increases accuracy, accelerates order timelines, and reduces staff challenges and expenses for retailers and distributors. World of Beer is also implementing SmartBar, which gives retailers the ability to review bar activity in real time and take action by shift, location, division or chain.
BeerBoard's robust client list features high-profile independent groups and major chain operators across North America. Retailers include industry leaders Buffalo Wild Wings, Hooters, Twin Peaks, WingHouse, Mellow Mushroom and TGI Fridays. BeerBoard also partners with major brewers including Molson Coors, Boston Beer, Constellation Brands, Lagunitas, Heineken, Diageo and Yuengling.
#####
About BeerBoard
BeerBoard is the leading technology and Automated Intelligence company enabling the food & beverage industry to make business decisions about its complete bar business. It manages over $1 billion in bar sales and 55,000 products through its industry-leading solution. The company's patented digital platform captures, analyzes, and reports real-time data related to bar performance, brand insights and inventory. Built for retailers, brewers and distributors, the versatile platform is easily operated from a single dashboard, and it has streamlined operations and increased top and bottom line revenue all over the United States. Find out more about how BeerBoard is changing the bar industry through data-based business decisions at beerboard.com.