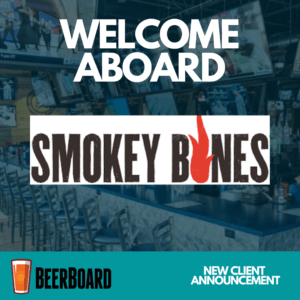 SYRACUSE, NY (December 6, 2021)  — BeerBoard, the leader in technology and automated intelligence for the on-premise hospitality industry, announced today that Smokey Bones has signed as its newest retail client partner.
Headquartered in Plantation, Florida, Smokey Bones has 61 locations in 16 states. Known as the "Masters of Meat," Smokey Bones is a full-service bar and restaurant delivering great barbecue, award winning ribs, and good times. A certified Great Place to Work Company, Smokey Bones is an affiliate of Boca Raton, Florida-based Sun Capital Partners.
"Smokey Bones is excited to partner with BeerBoard to implement its industry-leading technology to support and strengthen our beverage program," said Nichole Robillard, Smokey Bones' Vice President of Marketing. "We are always seeking opportunities to optimize our guest experience to align with current trends and exceed expectations. BeerBoard's Insights and SmartOrders solution allows us to do that while making better-informed decisions, streamlining efficiency, and empowering team members in new ways."
Smokey Bones is now utilizing BeerBoard's industry leading SmartBar technology to digitize its complete bar management. The industry's most trusted technology, SmartBar automates on-premise business intelligence reporting to easily identify areas of opportunity to improve performance by brand, style, category for complete bar offerings. It's powerful tools and simple, actionable reporting help deliver the industry's best profits.
"Smokey Bones is noted for being one of the top on-premise operators in the country and everyone at BeerBoard is excited to partner with their team," said Josh Solomon, Vice President of BeerBoard. "In the evolving landscape of the on-premise, the use of technology and business intelligence is now at a premium and the leadership of Smokey Bones has embraced that. We look forward to helping advance their efforts in improved revenue, efficiency and guest experience."
BeerBoard's robust client list features high-profile independent groups and major chain operators across North America. Retailers include industry leaders Buffalo Wild Wings, Hooters, Twin Peaks, WingHouse and Mellow Mushroom. BeerBoard also partners with major brewers including Lagunitas, Heineken, Diageo, Yuengling, New Belgium, Shiner, Stone and Pabst.
#####
About BeerBoard
BeerBoard is the leading technology and Automated Intelligence company enabling the food & beverage industry to make business decisions about its complete bar business. It manages over $1 billion in bar sales and 55,000 products through its industry-leading solution. The company's patented digital platform captures, analyzes, and reports real-time data related to bar performance, brand insights, ordering and inventory. Built for retailers, brewers and distributors, the versatile platform is easily operated from a single dashboard, and it has streamlined operations and increased top and bottom line revenue all over the United States. Find out more about how BeerBoard is changing the bar industry through data-based business decisions at beerboard.com.
About Smokey Bones
Smokey Bones – the "Masters of Meat" – is a full-service restaurant delivering great barbecue, award winning ribs, and good times in 61 locations across 16 states.  Smokey Bones serves lunch, dinner, and late night, and has a full-bar featuring a variety of bourbons and whiskeys; a selection of domestic, import and local craft beers; and signature, handcrafted cocktails.  We offer a variety of meats that are slow-smoked, fire-grilled, and available for dine-in, pick-up, online ordering, catering, and delivery. Smokey Bones offers a 10 % military and veterans discount daily with ID.  A certified Great Place to Work Company, Smokey Bones is an affiliate of Boca Raton, FL based Sun Capital Partners.  For additional information and a list of locations nationwide, please visit www.SmokeyBones.com. Smokey Bones, Meat is What We Do!