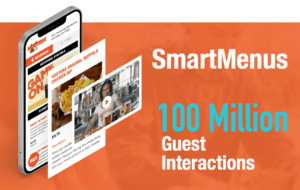 SYRACUSE, NY (December 22, 2021)  — BeerBoard, the leader in technology and automated intelligence for the on-premise hospitality industry, is excited to announce our SmartMenus solution has surpassed 100 million guest interactions since launching.
Industry experts all agree that QR codes are here to stay. SmartMenus is the industry's best digital menu solution, allowing you the ability to provide full food and beverage menus while including supplier funded video promotions.
Guests are immediately engaged with live, up-to-date menu offerings accessed from a QR code.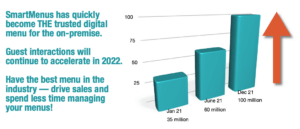 #####
About BeerBoard
BeerBoard is the leading technology and Automated Intelligence company enabling the food & beverage industry to make business decisions about its complete bar business. It manages over $1 billion in bar sales and 55,000 products through its industry-leading solution. The company's patented digital platform captures, analyzes, and reports real-time data related to bar performance, brand insights, ordering and inventory. Built for retailers, brewers and distributors, the versatile platform is easily operated from a single dashboard, and it has streamlined operations and increased top and bottom line revenue all over the United States. Find out more about how BeerBoard is changing the bar industry through data-based business decisions at beerboard.com.