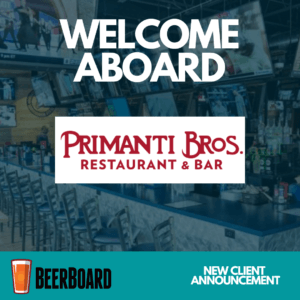 SYRACUSE, NY (October 17, 2022)  — BeerBoard, the leader in technology and automated intelligence for alcohol management within the on-premise hospitality industry, announced today that Primanti Bros. has signed on as its newest retail partner.
Founded and based in Pittsburgh, Primanti Bros. has 42 locations across Pennsylvania, Maryland, Michigan, West Virginia and Ohio. Primanti Bros. is known for their iconic Almost Famous classic sandwich – piled high with grilled meat, melted cheese, French fries, two tomato slices, and the secret, homemade sweet and sour slaw, piled high between two slices of thick-sliced Italian bread.
"We are thrilled to partner with an iconic brand like Primanti Bros.," said BeerBoard's Vice President of Sales Tom Young. "A noted operator within our industry, Primanti Bros. has stayed true to its humble roots while continuing to be an innovator. In utilizing our technology, we look forward to helping the Primanti Bros. team become even more efficient in their alcohol management and drive improved revenues across their store lineup."
Following a successful pilot at select locations, Primanti Bros. committed to being a long-term partner and utilizing BeerBoard's industry-leading technology to digitize its alcohol management at each of its locations.
As the industry's most trusted technology, SmartBar gives retailers the ability to review complete alcohol activity in real time and take action by shift, location, division or chain. The Primanti Bros. team will initially utilize SmartBar for yield management and automating keg inventory.
"Data and insights are extremely important to our industry, and specifically our business. BeerBoard's technology provides the perfect tools to help us identify areas where we are can be more efficient," said Primanti Bros. President Adam Golomb. "The insights BeerBoard provides into real-time beer inventory and usage is second-to-none and will help us to grow our business."
BeerBoard's robust client list features high-profile independent groups and major chain operators across North America. Retailers include industry leaders Buffalo Wild Wings, Hooters, Twin Peaks, WingHouse, Mellow Mushroom and TGI Fridays. BeerBoard also partners with major brewers including Molson Coors, Boston Beer, Constellation Brands, Lagunitas, Heineken, Diageo and Yuengling.
#####
About BeerBoard
BeerBoard is the leading technology and Automated Intelligence company enabling the food & beverage industry to make business decisions about complete alcohol management. It manages more than $1 billion in bar sales and 55,000 products through its industry-leading solution. The company's patented digital platform captures, analyzes, and reports real-time data related to alcohol performance, brand insights, ordering and inventory. Built for retailers, distributors and suppliers, the versatile platform is easily operated from a single dashboard, and it has streamlined operations and increased top and bottom-line revenue all over the United States. Find out more about how BeerBoard is changing the alcohol industry through data-based business decisions at  beerboard.com.
About Primanti Bros.
In 1933, Joe Primanti opened a lunch cart in Pittsburgh's Strip District selling sandwiches to the hungry truckers who were coming and going at all times of the night. Encouraged by sales and positive feedback, Joe expanded to a small storefront where he was joined by his brothers Dick and Stanley and their nephew John DePriter. And that's how the very first Primanti Bros. location was born – Primanti Bros. is dedicated to that early notion that folks deserve great food, with no pretense, for a good price. For more information on Primanti Bros., please visit primantibros.com.