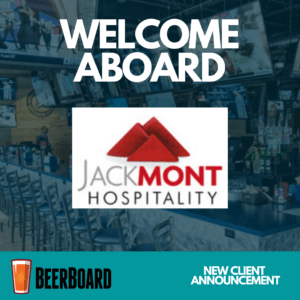 SYRACUSE, NY (January 26, 2022)  — BeerBoard, the leader in technology and automated intelligence for the on-premise hospitality industry, announced today that Jackmont Hospitality has signed as its newest on-premise retail partner.
Headquartered in Atlanta, GA, Jackmont Hospitality is an award-winning, minority-owned foodservice management company and a leader in airport hospitality. It owns and operates 45 locations across the country on behalf of Atlanta Restaurant Partners (ARP). Concepts include TGI Fridays, Chicken & Beer, Sealegs, Slapfish, Barney's and Twin Peaks.
The spirit behind Jackmont Hospitality was born out of the 1930s home and small family resort of the late Maynard H. Jackson, Jr., former Atlanta mayor. "Jackson's Mountain" provided a retreat for family and friends to enjoy good food and warm, attentive hospitality. Today, Jackmont Hospitality combines the hospitality quality of yesteryear with a modern approach to business and industry solutions.
Jackmont Hospitality will be utilizing BeerBoard's industry-leading SmartBar technology, which gives retailers the ability to review bar activity in real time and take action by shift, location, division or chain. Its automated business intelligence reporting to easily identify areas of opportunity to improve performance by brand, style, category for complete bar offerings.
Jackmont will also be implementing SmartOrders, which automates ordering and inventory, and digitizes the interaction between retailers and distributors. Its automated intelligence also eliminates out-of-stocks in a high-volume, high-traffic airport environment. Using SmartOrders, retailers place orders directly through distributors and receive insights on perpetual inventory with recommended orders (brands and quantities) based on data. SmartOrders increases accuracy, accelerates order timelines, and reduces staff challenges and expenses for both retailers and distributors.
BeerBoard's robust client list features high-profile independent groups and major chain operators across North America. Retailers include industry leaders Buffalo Wild Wings, Hooters, Twin Peaks, WingHouse and Mellow Mushroom. BeerBoard also partners with major brewers including Lagunitas, Heineken, Diageo, Yuengling, New Belgium, Shiner, Stone and Pabst.
#####
About BeerBoard
BeerBoard is the leading technology and Automated Intelligence company enabling the food & beverage industry to make business decisions about its complete bar business. It manages over $1 billion in bar sales and 55,000 products through its industry-leading solution. The company's patented digital platform captures, analyzes, and reports real-time data related to bar performance, brand insights and inventory. Built for retailers, brewers and distributors, the versatile platform is easily operated from a single dashboard, and it has streamlined operations and increased top and bottom line revenue all over the United States. Find out more about how BeerBoard is changing the bar industry through data-based business decisions at beerboard.com.