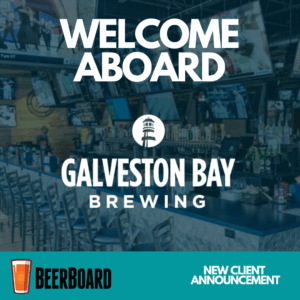 SYRACUSE, NY (May 15, 2023)  — BeerBoard, the leader in technology solutions and alcohol management for the on-premise hospitality industry, announced today that Galveston Bay Brewing has signed as its newest retail partner.
Galveston Bay Brewing, located in Clear Lake Shores, TX, has recently relocated and expanded its taproom and brewery to the waterfront on Clear Lake. Its larger taproom features over 30 local craft brews and seltzers on tap and a full menu focused on coastal craft food. The new location adds a covered patio and pier. GBB has also increased their brewing capacity five-fold with a new brewhouse, vessels, and room for expansion.
"Galveston Bay Brewing is dedicated to providing memorable experiences for our customers. To achieve this, we recognize the importance of understanding our patrons at our new location," said Joel Purdom, one of the owners of Galveston Bay Brewing. "By implementing BeerBoard's technology, we gain valuable insights into our customers' preferences in real-time, enabling us to make informed decisions on the products we offer. The integration of real-time menus and digital displays with our POS system saves us time and provides our customers with engaging menus. This will allow them to easily select the items that best match their tastes."
Galveston Bay Brewing will utilize BeerBoard's industry-leading technology solutions to make its alcohol management, menu delivery and hospitality more efficient.
The industry's most trusted insights technology, SmartBar, gives retailers the ability to review complete bar activity in real time and take action by shift, location, division or chain. Galveston Bay Brewing will implement on-demand print menus and BeerBoard TV, which delivers current food and beverage offerings to dedicated digital displays through the establishment.
BeerBoard's technology will integrate with Galveston Bay Brewing's point-of-sale solution, Toast. This will enhance reductions in food and labor costs through administration of payroll, operations and purchasing through one unified platform. The time savings in manual tasks allows the Galveston Bay team to focus on providing their guests a premier dining experience.
"We welcome Galveston Bay Brewing as our new retail partner and are excited to work with their entire team," said Tom Young, Vice President of Sales for BeerBoard. "Galveston Bay Brewing is a unique concept with great coastal food, craft beer and seltzers. In adopting our technology, we look forward to assisting the Galveston team in their efforts to being more efficient and maintaining a premier guest experience."
BeerBoard's robust client list features high-profile independent groups and major chain operators across North America. Retailers include industry leaders Buffalo Wild Wings, Hooters, Twin Peaks, WingHouse, Mellow Mushroom and Hickory Tavern. BeerBoard also partners with major brewers including Molson Coors, Boston Beer, Constellation Brands, Lagunitas, Heineken, Diageo, Yuengling and Sierra Nevada.
####

About BeerBoard
BeerBoard is the leading technology solutions provider for the hospitality industry, enabling retailers and suppliers to make fact-based decisions about their complete alcohol management. The company manages more than $1 billion in alcohol sales and 55,000 products through its industry-leading solution. Its patented digital platform captures, analyzes, and reports real-time data related to alcohol performance, ordering, inventory and payments. The versatile platform is easily operated from a single dashboard, and it has streamlined operations and increased top and bottom-line revenue for operations of every size across the United States. Find out more about how BeerBoard is changing the alcohol industry at beerboard.com.