Four Corners is a leading, Chicago-based hospitality group that owns and operates unique establishments, each thoughtfully created to offer an exceptional social experience, creative menus and superior service. The company started with a neighborhood bar in 2001 and has since grown to 15 venues across Chicago, now with an eye on expanding nationally.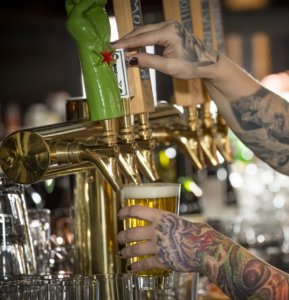 "From our start in 2001, we always paid close attention to the little things that make a bar successful," said Tim Ryll, Bar Director for Four Corners. "As we grew, data was becoming even more important for us. We needed to quickly identify loss and where to make corrections operationally."
In the mid-2000s, Four Corners was looking for a partner to assist in that effort and enhance the structure already in place. "We were familiar with other vendors offering flow metering, but BeerBoard really stood out because of their real-time data and insights, and the total package of features they offer."
BeerBoard installed its SmartBar technology, which generates real-time insights, trend-driven analytics, and integrated ordering and inventory. On average, a typical retailer's yield from a keg of beer is 78 percent. Using BeerBoard's data-driven technology, clients yield an average of 95 percent and sell 20 additional pints, or more, from each keg.
Among its lineup of concepts, Four Corners features tap sets ranging from eight lines up to 32. "We have used BeerBoard and its SmartBar technology to drive better insights on our bar performance," said Ryll. "We have cut our draft beer loss by percentage points. Sometimes it may not seem significant for one location, but when you factor that out over the course of a year, times multiple locations, those are real dollars we are recouping. That means something to all of us."
In addition to reducing loss, Four Corners also uses performance metrics to incentivize and compensate its staff. SmartBar has become a large part in that tracking.
"The impact is felt not only at the home office, but all the way through the operation of a single location to that of our bar staff," said Maddie Fernandez, Asst. General Manager for 80 Proof in Chicago. "Our entire team at 80 Proof is more aware of their performance and focused on things like proper pouring or ringing in a beer correctly. It drives everyone to be better at their job."
To back up both Ryll's and Fernandez's points, the group's 80 Proof location is what the kids call "lit" – and not just as a concept (it is), but in its draft beer performance. Since January, the concept has improved its per keg performance from a starting point of 91.82% to its current 98.99% (+7.17%). Those results far outpace the national average (85%) and BeerBoard's goal of 95% yield for clients.
As a long-time partner with BeerBoard, Ryll looks back on its impact on Four Corners' operations. "We consider ourselves to be one of the industry's early adopters of BeerBoard. An OG, if you will," he said. "Since implementing their technology, going back 13-14 years, the results speak for themselves. It has been a fantastic decision for us."
With the real dollars there to back it up.

#####

About BeerBoard
BeerBoard is a leading technology company enabling the food & beverage industry to make data-driven decisions about its bar business. It manages over $1 billion in retail draft beer sales and 45,000 products through its industry-leading solution. The company's patented digital platform captures, analyzes, and reports real-time data related to bar performance, brand insights and inventory. Built for retailers, brewers and distributors, the versatile online system is easily operated from a single dashboard, and it has streamlined operations and increased top and bottom line revenue all over the United States. Find out more about how BeerBoard is changing the bar industry through data-based business decisions at https://beerboard.com/