SYRACUSE, NY (October 16, 2023)  — BeerBoard — the leader in alcohol management technology and full-bar insights for the on-premise hospitality industry, announced today it has partnered with Craft Standard to provide insights for draft cocktails at several of the largest volume locations across the United States.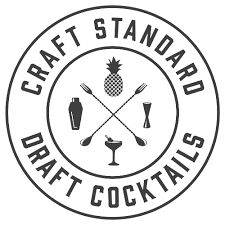 Craft Standard's patented draft cocktail solution is utilized by leading hospitality operators and destinations across the country. Craft Standard will benefit from access to BeerBoard's proprietary on-premise data and analytics platform which generates full bar insights for draft and packaged products across spirits, wine, beer, and RTDs (ready-to-drink). It will receive customized reporting on product visibility and movement, helping improve rate of sale by over 10X, identifying underperforming brands, reducing a retailer's labor challenges and optimizing guest wait time.
Setting the new category standard in premium, ready-to-draft on-premise cocktails, Craft Standard's Ready to Draft™ system consistently serves better drinks, faster. This ultimately lowers the cost-to-serve per guest and reduces shrinkage, leading to increased profit per cocktail poured.
"We are excited to partner with Craft Standard to provide industry-leading insights to a leading in
novator in our industry," said John Boyle, SVP Business Development for BeerBoard. "Craft Standard is setting a new standard for draft cocktail delivery at across the country. As BeerBoard's insights platform now has full bar insights reporting, we will provide the Craft Standard team with proper visibility to help on-premise retailers drive continued growth and improved ROI across their draft and spirits segments."
BeerBoard's technology is seamless in reducing labor and training for operators, allowing them to serve more customers more efficiently. It also helps to reduce loss and waste, driving improved revenue, while also improving consistency and guest satisfaction.
"Draft cocktails maximize speed of service and BeerBoard gives us incredible insights to validate the increase in revenue each account achieves," said Rob Cardoze, Head of Operations for Craft Standard.
BeerBoard's robust client list features high-profile independent groups and major chain operators across North America. Retailers include industry leaders Buffalo Wild Wings, Hooters, Twin Peaks, WingHouse, Mellow Mushroom and Hickory Tavern. BeerBoard also partners with major brewers including Molson Coors, Constellation Brands, Lagunitas, Heineken, Yuengling and Sierra Nevada.
 ####
About BeerBoard
BeerBoard is the leading technology solutions provider for the hospitality industry, enabling retailers, distributors and suppliers to make fact-based decisions about their complete alcohol management. The company manages more than $1 billion in alcohol sales and 100,000 products through its industry-leading solutions. Its patented digital platform captures, analyzes, and reports real-time data related to alcohol ordering, inventory and payments. Versatile and easily operated from a single dashboard, it has streamlined operations, efficiency and improved revenue across the United States. Find out more about how BeerBoard is changing the alcohol industry at beerboard.com.
About Craft Standard
Craft Standard brings draft cocktails to the mainstream with premium mixers delivered ready to pair with your favorite spirit brands. Utilize any existing draft line to provide a range of cocktails on tap, reducing costs while increasing speed of service and consistency. Visit craftstandard.com to find out more and to locate a distributor.