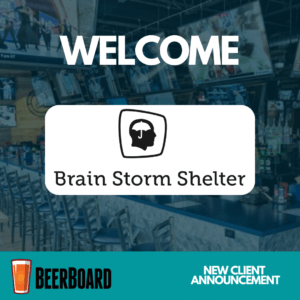 SYRACUSE, NY (July 24, 2023)  — BeerBoard, the leader in technology and automated intelligence for alcohol management in the on-premise hospitality industry, announced today that Brain Storm Shelter has signed on as its newest retail partner.
Brain Storm Shelter originates and operates vibrant, high energy restaurants and beer yards across Texas and the United States. It is utilizing BeerBoard's SmartBar technology for its Truck Yard concept located in the heart of Houston's sports and entertainment district. In addition to Truck Yard, Brain Storm Shelter operates Second Rodeo Brewing, Beard Science Sour House and Greenville Theater. It has created Twisted Root Burger Co., Quincy's Chicken Shack, Tacos & Avocados and By the Horns Brewing.
"We are excited to welcome Brain Storm Shelter and its Truck Yard concept as our newest client partners," said Josh Solomon, BeerBoard's Vice President of Channel Partnerships. "Jim Saunders and his team are known for their high-energy concepts which have become engrained in the hospitality scene within the communities they serve. Everyone here at BeerBoard looks forward to helping Brain Storm Shelter become even more efficient in their complete alcohol management and driving improved revenues for their brand."
Brain Storm Shelter committed to being a long-term partner and utilizing BeerBoard's industry-leading technology to digitize its complete alcohol management at each of its locations.
The industry's most trusted technology, SmartBar gives retailers the ability to review bar activity and yield in real time and take action by shift, location, division or chain. BeerBoard technology increases accuracy, accelerates order timelines, and reduces staff challenges and expenses for retailers and distributors.
BeerBoard's robust client list features high-profile independent groups and major chain operators across North America. Retailers include industry leaders Buffalo Wild Wings, Hooters, Twin Peaks, WingHouse, Mellow Mushroom and Hickory Tavern. BeerBoard also partners with major brewers including Molson Coors, Boston Beer, Constellation Brands, Lagunitas, Heineken, Diageo, Yuengling and Sierra Nevada. To learn more about BeerBoard, visit www.beerboard.com.
####

About BeerBoard
BeerBoard is the leading technology solutions provider for the hospitality industry, enabling retailers, distributors and suppliers to make fact-based decisions about their complete alcohol management. The company manages more than $1 billion in alcohol sales and 100,000 products through its industry-leading solution. Its patented digital platform captures, analyzes, and reports real-time data related to alcohol performance, ordering, inventory and payments. Versatile and easily operated from a single dashboard, it has streamlined operations and increased top and bottom-line revenue across the United States. Find out more about how BeerBoard is changing the alcohol industry at beerboard.com.