Last year alone, nationwide alcohol sales grew by more than 5% to top $250 billion. Though some statistics suggest that we are drinking less as a nation, individual consumer spending on alcoholic beverages has increased along with the average price for alcoholic beverages.
Home to the craft beer revolution, Boston is one of the heaviest drinking cities in the United States. Bostonians consume an average of nearly 16 drinks per month according to a survey conducted by a market research firm, making them tied with Washington D.C. residents. The confluence of a high volume of college students, a dreary winter season, and a deeply rooted Irish ancestry is often cited as a foundation for this statistic.
There is no disputing that Boston loves to drink, but what is the overwhelming beverage of choice? Beer. Read on to see what research revealed to be Boston's top 10 favorite beers.
A Look into Boston's Beer Culture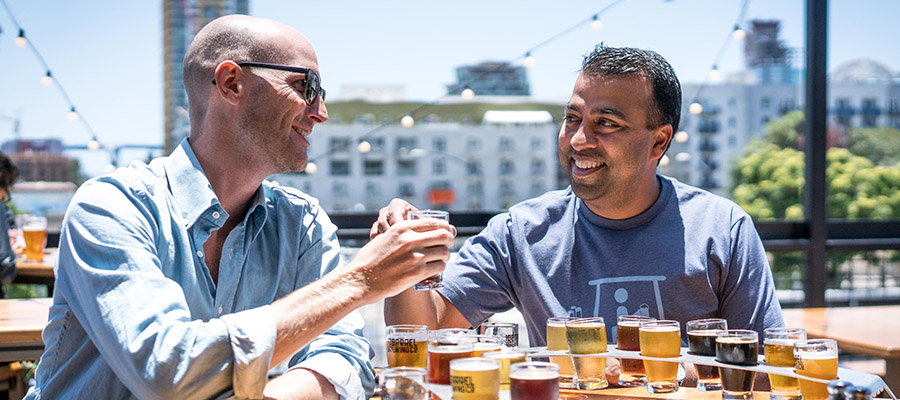 In a city like Boston, where college students dominate, the drinking culture is a little bit different than in other cities. Massachusetts is home to over 150 commercial breweries, over 20 of which are visitable and located in the Boston metro area. Some of the biggest names in the Boston brewing industry include Dorchester Brewing Company, Trillium Brewing Company, and Harpoon Brewery & Beer Hall.
Boston also houses more than 50 colleges including Harvard University, Boston University, and Boston College. This combination seems like the perfect recipe for bars, restaurants, and independent brewers but strict blue laws and a ban on "happy hour" make things a bit more complicated. Following a drunk driving incident in the 1980s, the city made it illegal for businesses to temporarily change alcoholic beverage prices at any time during the course of the week.
Though Boston certainly has its fair share of drinkers, the cost of living in the city is high. In fact, a family of three earning a six-figure income has a monthly disposable income of -$510 (yes, that's a negative number). In order to survive, even Boston's most popular drinking establishments need to rely on hard data to stay in the black from one year to the next.
Analytics platforms like BeerBoard provide valuable insight for businesses looking to maximize profits in beverage sales. We collected data on Boston's most popular beers to bring you this list of the top 10 beers in Boston.
The Top 10 Beers in Boston
Home to several nationally-known brewers like Samuel Adams and Harpoon, Boston became a hub for the developing craft beer revolution in the 1980s. Though the city itself houses over a dozen craft breweries (not to mention over 100 more in the rest of the Commonwealth), some of the top-selling beers in Boston are national favorites like Bud Light and Coors Light.
To give you some insight into the beer industry in Boston, we've collected data from BeerBoard bars to bring you this list of the top 10 beers in Boston.
Generate Embed Code
×
Generate Embed Code For This List
Generated Code
Hit "Generate & Copy" button to generate embed code. It will be copied to your Clipboard. You can now paste this embed code inside your website's HTML where you want to show the List.
In the food and beverage industry, setting yourself apart is what gets you noticed, but the key to success is harnessing the power of supply and demand. If you're a restaurant, bar, or brewer looking to make more informed purchase decisions, contact us today to learn how you can take advantage of BeerBoard's innovative solutions to drive sales and maximize profits.