Leader in real-time data and insights releases its annual report on everything draft beer surrounding the Big Game
SYRACUSE, NY (February 4, 2019) — BeerBoard, the leader in real-time data, insights and consumer engagement for the hospitality industry, today released its 2019 Big Game Pour Report, a review of insights and performance data for draft beer on the day of America's most popular sporting event (and associated activities).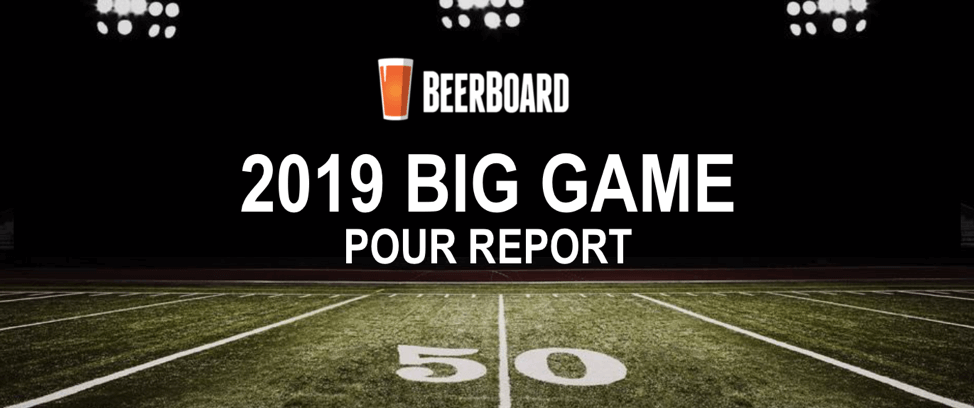 This annual report shows the Big Game is much more than just the action on the field; it has a direct impact on bars, brewers and markets. The 2019 report looks at February 3, 2019, and compares same-store data against February 4, 2018 (date of the 2018 Big Game).
BeerBoard's robust client list features high-profile independent groups and major chain operators across North America. The list includes industry leaders Buffalo Wild Wings, Hooters, Twin Peaks, Applebee's, Mellow Mushroom and BJ's Restaurant & Brewhouse.
And without further ado, let's break down the action at the taps:
Beer Volume Up Again in 2019
The game on the field did not live up to the hype, but for the second year in a row, on-premise consumption was up on the day of the Big Game. After seeing a +21.6% push in 2018, volume grew by 5.8% over 2018. Taking at look at the cities of the participants, Los Angeles followed the national trend, growing 17.2%, while New England was down 4.2% from 2018.
Biggest Movers
In the Big Game, there is always a game-changing play that shifts the tide. It's no different at the taps. In New England, Lagers were +11.9% over 2018, driven by the growth of Samuel Adams Boston Lager (+28%). In Los Angeles, Light Lager was the biggest mover (+11.8%) and was led by a massive spike in Miller Lite volume (+88%).
Most Poured Style
It is no surprise that Light Lager won the style battle at the taps nationally, but what is surprising is the customary leader grew a healthy 17.8% over 2018. While locker room leader Bud Light was up a modest 4.6%, it's direct competition Miller Lite (+18.1%) and Coors Light (+20%) enjoyed more sizable jumps. Maybe this can explain what we were seeing during the commercial breaks?
Top Styles Down
While Light Lager enjoyed its climb, the other leading styles saw noticeable declines. Lager was down 13.1%, Wheat/Hefeweizen dipped 13.5% and even IPA took a 6.1% hit. Digging a little deeper into the Lager slide, we saw Budweiser fall 48.9% over its run in 2018, including 42% within the style. Standing at the ready to pick up those dropped Lager points were hard-driving Dos Equis and Modelo. Dos Equis was up 4.1% in-style, while Modelo rocketed up 37.4% within Lagers and 21% overall.
Craft Takes a Tumble
Maybe it's a one-day anomaly, especially when non-traditional beer drinkers join in for the Big Game fun, but Craft beers took a dip yesterday. In general, Craft was down 7% overall, as compared to 2018 and Local Craft was down by a wider margin, falling 17% over last year's game.
New England Notes
New England's success on the field, including three straight trips to the Big Game and nine in the last 17 years, may be leading to complacency among Patriots fans. The 4.2% decline this year follows an even bigger fall in 2018 (-11%). Budweiser and Guinness fought it out for top brand honors again this year. Bud won a tight matchup, 12.58% to 12.00, and knocked Guinness from the top spot it had earned in 2018. Even with Bud's win, Light Lager was down in New England, -10.4%, and IPAs fell 15.5%.
Los Angeles Notes
We noted earlier the spike in Los Angeles consumption and the related growth within Light Lagers. Miller Lite's boost of 88% drove the brand from #8 in 2018 all the way to #3 in 2019. Coors Light also fed the style growth in La-La Land, up 25.2% and moving from the #3-ranked style to #2.
Impact on the Host City
Atlanta, the site of this year's contest, was a hot bed not only for those attending the game, but fans who simply wanted to be around America's largest annual sporting event. How did the influx of fans impact the on-premise? Significantly. Pour volume in The ATL was up 20.2% over 2018, when the game was held in Minneapolis. Michelob Ultra, typically the #4 brand nationally, rose to #2 in the market yesterday and saw its share percentage climb from 9.8% nationally to 14.1% in Atlanta (+43.9%). Yuengling Lager saw a similar spike, earning a 5.7% share (up from 2.2% nationally, +159%) and jumping from the #11-ranked style nationally to #5 in Atlanta.
There Are Still Rams Fans in St. Louis?
The Gateway to the West took on a literal meaning when the Rams left St. Louis in 2016 for a return to Los Angeles. Wondering if there were any Rams fans left in the city, we dug in and found a few. Pour volume was up a modest 2.5% over 2018, meaning at least a few folks had a vested interest in the outcome of the game.
Meanwhile, In New Orleans … 
As a result of a missed call in the NFC Championship game, which essentially tore up New Orleans' ticket to the Big Game, Saints fans called for a boycott and did everything in their power to avoid the broadcast. Those planned boycotts not only impacted television ratings, but also led to a 13.9% decline in pour volume in the Crescent City.
#####
About BeerBoard
BeerBoard manages over $1 billion in retail draft beer sales and 45,000 products through its industry-leading data and insights platform. It works with the largest operators and brewers to help them sell more beer and make more money.
Installed at thousands of client locations, its services include SmartBar, which generates real-time insights and trend-driven analytics; BeerBoardTV, a digital consumer-facing menu display; BeerBoard Menu, automated print and website menus; and BeerBoard Mobile, a mobile application designed for consumer interaction.
BeerBoard's robust client list features high-profile independent groups and major chain operators across North America. The list includes industry leaders Buffalo Wild Wings, Hooters, Twin Peaks, Applebee's, Mellow Mushroom and BJ's Restaurant & Brewhouse. BeerBoard also partners with major brewers for data and insights, including Lagunitas, Stone Brewing, Founders, Labatt USA, Genesee, Pyramid and Magic Hat.
BeerBoard is headquartered in Syracuse, NY, and has offices in Denver, Minneapolis and New York City. For more information, please visit https://beerboard.com/.