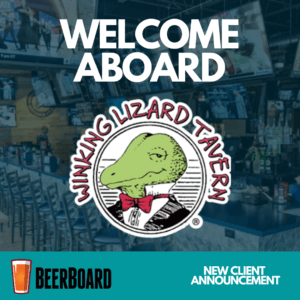 SYRACUSE, NY (May 24, 2021)  —  BeerBoard, the leader in technology, data and insights for the food and beverage industry, announced today that Winking Lizard has signed on as its newest client partner.
Based in Ohio, Winking Lizard currently has 17 locations across the Buckeye State. Its success centers around its commitment to quality, consistency and passion for all things food and beer. For guests and loyal staff, Winking Lizard has become a home away from home, forged in family, community and life-long memories.
BeerBoard's robust client list features high-profile independent groups and major chain operators across North America. The list includes industry leaders Buffalo Wild Wings, Hooters, Twin Peaks, WingHouse and Mellow Mushroom. BeerBoard also partners with major brewers including Lagunitas, Heineken, Diageo, Yuengling, New Belgium, Shiner, Stone and Pabst.
#####
About BeerBoard
BeerBoard is the leading technology company enabling the food & beverage industry to make data-driven decisions about its complete bar business. It manages over $1 billion in bar sales and 55,000 products through its industry-leading solution. The company's patented digital platform captures, analyzes, and reports real-time data related to bar performance, brand insights and inventory. Built for retailers, brewers and distributors, the versatile platform is easily operated from a single dashboard, and it has streamlined operations and increased top and bottom line revenue all over the United States. Find out more about how BeerBoard is changing the bar industry through data-based business decisions at beerboard.com.