While everyone was recovering from a long weekend of eating, football and shopping, our team was crunching the numbers for on-premise draft volume.
BeerBoard's Thanksgiving Eve Report is an interesting and fun look at on-premise consumption for what is traditionally one of the biggest party nights of the year. Following a massive holiday in 2021, would on-premise volume be able to keep pace in 2022?
For this report, data is based on Thanksgiving Eve (the day prior to Thanksgiving) for 2022 and 2021. Where applicable, comparisons are made against a "regular Wednesday" one week prior in the same year.
We hope everyone had a great Thanksgiving.
Cheers!
The BeerBoard Team
---
BeerBoard Report: 2022 Thanksgiving Eve Trends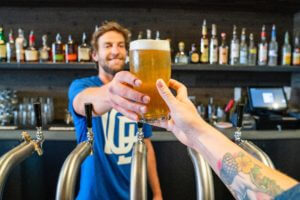 Biggest Party Night of the Year Tried to Keep Up with a Massive 2021
On the biggest party night of the year, Thanksgiving Eve (Nov 23), draft volumes saw a -17.1% decline when compared to its 2021 counterpart. In 2021, on-premise volumes were up significantly (+79.7%) when compared to 2020 Thanksgiving Eve (which was impacted negatively due to Covid protocols).
The Usual Bump over a "Regular" Wednesday Returns

The on-premise 
DID INDEED
 experience a serious lift in draft volume when comparing week-over-week (Nov 23 v Nov 16). Thanksgiving Eve saw growth of 
+45%
 when compared against the previous Wednesday. In 2021, there was a 69.2% lift nationally when comparing Thanksgiving Eve to the previous Wednesday (the "Regular Wednesday" in our data).
How did Syracuse Do?
We always take a look our hometown of Syracuse and the data bucked the national trend. 'Cuse saw an increase of +8.1% over 2021. Volume was also +74.2% on Thanksgiving Eve over a Regular Wednesday, this coming off of growth of +107.8% in 2021, +93.8 in 2020 and +83.1% in 2019.
Styles See Movement
On this night, Light Lager continued to have a firm grip on the #1 position followed by Lagers (#2), IPA (#3), Belgian Wit / White Ale (#4) and Euro Ales (#5). This is a change from a regular Wednesday, where Euro Ales checks in at #14. Strong Ales checked in at #10, up from its regular position of #17.
The Top 10 brands poured on Thanksgiving Eve 2022 (nationally):
1. Bud Light
2. Michelob Ultra
3. Miller Lite
4. Modelo Especial
5. Coors Light
6. Dos Equis Lager Especial
7. Blue Moon Belgian White
8. Yuengling
9. Stella Artois
10. Budweiser
States See Uptick Week-Over-Week
Thanksgiving Eve is typically a boon for retailers everywhere, and the following states enjoyed a big lift in draft volume when compared to the previous Wednesday (Nov 23 v Nov 16):
When taking a deeper look at Thanksgiving Eve, Packaged Products were up a healthy 
+34%
 over the previous Wednesday. The top products among styles were:  
Top Packaged Products per Category
Overall Rank among packaged products in parenthesis (#)
Import: Corona Extra (#1 overall)
Domestic: Bud Light (#2 overall)
Seltzer: 
White Claw
 (#12 overall)
Non-Alcoholic: 
Heineken 0.0
 (#13 overall)
Craft: 
Yuengling
 (#26 overall)

About BeerBoard
BeerBoard is the leading technology and Automated Intelligence company enabling the food & beverage industry to make business decisions about complete alcohol management. It manages more than $1 billion in bar sales and 55,000 products through its industry-leading solution. The company's patented digital platform captures, analyzes, and reports real-time data related to alcohol performance, brand insights, ordering and inventory. Built for retailers, distributors and suppliers, the versatile platform is easily operated from a single dashboard, and it has streamlined operations and increased top and bottom-line revenue all over the United States. Find out more about how BeerBoard is changing the alcohol industry through data-based business decisions at beerboard.com.