BeerBoard's Thanksgiving Eve Report is an interesting and fun look at on-premise consumption for what is traditionally one of the biggest party nights of the year. Coming off a down 2020, things definitely bounced back in 2021.
For this report, data is based on Thanksgiving Eve (the day prior to Thanksgiving) for 2021, 2020 and 2019. Where applicable, comparisons are made against a "regular Wednesday" one week prior in the same year.
We hope everyone had a great Thanksgiving.
Cheers!
The BeerBoard Team
---
BeerBoard Report: 2021 Thanksgiving Eve Trends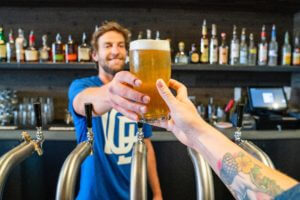 The Biggest Party Night of the Year is Back
After a slump in 2020, leveled by the impact of Covid, Thanksgiving Eve returned to its rightful place as the biggest On-Premise party night of the year. On-Premise volumes were up significantly (+79.7%) when compared to 2020 Thanksgiving Eve. It was also up a healthy +8.4% over 2019 Thanksgiving Eve.
Big Bump over a "Regular" Wednesday
The positive news for the On-Premise was that Thanksgiving Eve bump was still there over a "regular Wednesday." In 2021, there was a 69.2% lift nationally when compared to the previous Wednesday (the "Regular Wednesday" in our data).
Cities Realizing Growth Over 2020
While Thanksgiving Eve is a boon for retailers everywhere, some cities saw a bigger lift this year over 2020. Of the cities we tracked, Los Angeles led the growth, up +169.1% over Thanksgiving Eve 2020. Chicago was up +143.6%, followed by New York City (+97.7%), Tampa (+30.8%) and Dallas (22.2%).
How did Syracuse Do?
We always take a look our hometown of Syracuse and the data was impressive. 'Cuse saw a lift of +107.8% over 2020. Volume was also +35.5% on Thanksgiving Eve over a Regular Wednesday, this coming off of growth of +93.8 in 2020 and +83.1% in 2019.
Styles See Movement
On this night, Light Lager continued to have a firm grip on the #1 position followed by Lagers (#2), IPA (#3), Belgian Wit / White Ale (#4) and Stouts / Porters (#5). This is a change from a regular Wednesday, where Stouts/Porters checks in at #9 and European Ales at #5.
Top Brands Poured
The Top 10 brands poured on Thanksgiving Eve (nationally):
1. Bud Light
2. Michelob Ultra
3. Miller Lite
4. Coors Light
5. Modelo Especial
6. Dos Equis Lager Especial
7. Blue Moon Belgian White
8. Pabst Blue Ribbon
9. Stella Artois
10. Yuengling
#####

About BeerBoard
BeerBoard is the leading technology and Automated Intelligence company enabling the food & beverage industry to make business decisions about its complete bar business. It manages over $1 billion in bar sales and 55,000 products through its industry-leading solution. The company's patented digital platform captures, analyzes, and reports real-time data related to bar performance, brand insights and inventory. Built for retailers, brewers and distributors, the versatile platform is easily operated from a single dashboard, and it has streamlined operations and increased top and bottom line revenue all over the United States. Find out more about how BeerBoard is changing the bar industry through data-based business decisions at beerboard.com.