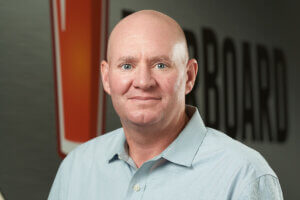 SYRACUSE, NY (February 17, 2022)  —  BeerBoard, the leader in technology and automated intelligence for the on-premise hospitality industry, announced today that its Founder & CEO, Mark Young, has been honored by Nation's Restaurant News in being named one of the Most Influential Suppliers and Vendors in the Country.
The list compiled by Nation's Restaurant News (NRN), a leading trade publication, focused on people who are evolving the restaurant industry through fresh ideas and game-changing approaches to leadership, workforce, equity and inclusion, investment, restaurant technology, supply chain, growth models and more. It features suppliers and vendors who are leading well in the restaurant industry
BeerBoard continues to lead on-premise hospitality in emerging technology which is helping to reshape the industry. Amid a fragmented industry between retailers, suppliers and distributors, BeerBoard equips each tier with data intelligence to break down information silos and bring greater parity and transparency across the beverage space.
BeerBoard's robust client list features high-profile independent groups and major chain operators across North America. Retailers include industry leaders Buffalo Wild Wings, Hooters, Twin Peaks, WingHouse, Mellow Mushroom and TGI Fridays. BeerBoard also partners with major brewers including AB InBev, Boston Beer, Constellation Brands, Lagunitas, Heineken, Diageo and Yuengling.
#####
About BeerBoard
BeerBoard is the leading technology and Automated Intelligence company enabling the food & beverage industry to make business decisions about its complete bar business. It manages over $1 billion in bar sales and 55,000 products through its industry-leading solution. The company's patented digital platform captures, analyzes, and reports real-time data related to bar performance, brand insights, ordering and inventory. Built for retailers, brewers and distributors, the versatile platform is easily operated from a single dashboard, and it has streamlined operations and increased top and bottom-line revenue all over the United States. Find out more about how BeerBoard is changing the bar industry through data-based business decisions at  beerboard.com.