Leader in technology and automated intelligence releases its annual report on draft beer surrounding the Day o' the Green
SYRACUSE, NY (March 21, 2022) — BeerBoard, the leader in technology and automated intelligence for the on-premise hospitality industry, today released its 2022 St. Patrick's Day Report, a review of insights and performance data for draft beer on the day that everyone in America is at least a little bit Irish.
BeerBoard's robust client list features neighborhood bars, high-profile independent groups and major chain operators across North America. The list includes industry leaders Buffalo Wild Wings, Hooters, WingHouse, Twin Peaks, Mellow Mushroom and TGI Fridays.
And without further ado, let's see if any Leprechauns had an impact at the taps: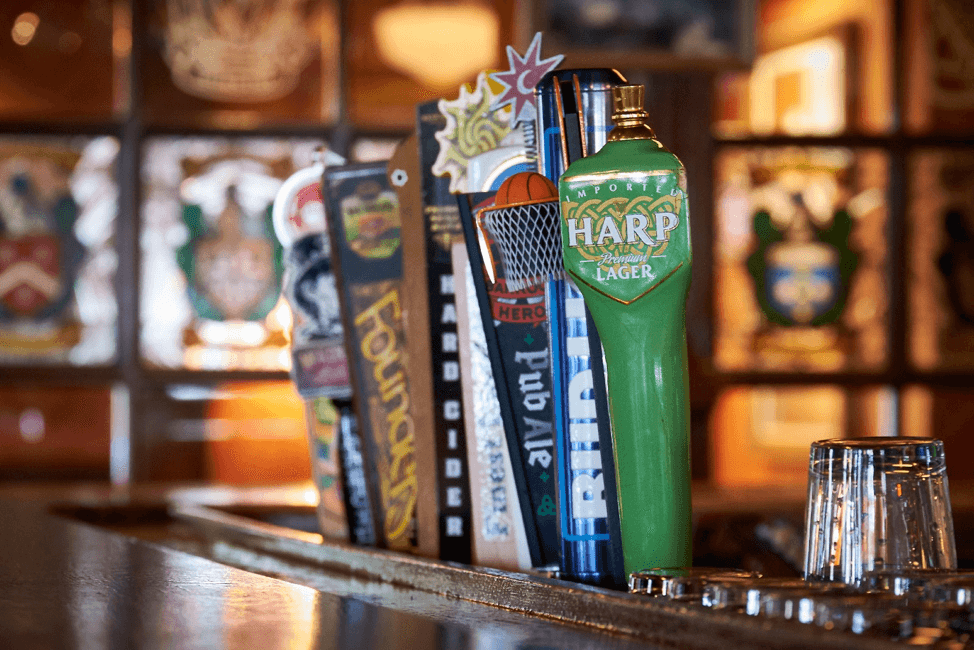 What Are We Looking At?
St. Patrick's Day was officially welcomed back in 2022. Our world changed just days prior to St. Patrick's Day in 2020, with COVID-based shutdowns implemented across the globe. 2021 continued to be bumpy, where restrictions remained moderate or, in some cases, in full-effect. This annual report shows St. Patrick's Day is much more than just Irish folk songs and people wearing something green; it has a direct impact on bars, brewers and markets. The 2022 report looks at March 17, 2022, and compares same-store data against March 17 in both 2021 and 2019.
All Signs Pointing Up
Across the nation, on-premise returns for St. Patrick's Day were up and they were up significantly. Draft volume was +118.5% nationally when compared to 2021. In looking back at 2019, the last fully-open holiday prior to Covid shutdowns, 2022 saw a solid +9% growth in volume.
A Bump for Light Lagers and Lagers
Light Lagers and Lagers saw a healthy bump on the day when compared to 2021. Light Lagers were +116%, while Lagers were +74%. After seeing a slight dip last year, IPAs rocketed back and were +169%. Bud Light, Michelob Ultra and Coors Light were the Top 3 brands poured nationally on the day this year.
Stouts (aka Guinness) Outperform Average
After a shocking decline in 2021 (albeit a nominal one), Stouts were back and in a big way. Typically checking in at #11 on the list of Top Styles, Stouts climbed all the way to #6 for the Holiday and saw +137% volume growth nationally. Guinness, the top-poured stout, and normally sitting just outside the Top 10 brands, moved up to the #8 brand for the day.
St. Patrick's Day Hubs See Bounceback
Two major American cities, both noted for their St. Patrick's Day celebrations, realized a major lift. New York City and Chicago, each under heavy restrictions the past couple years, welcomed back revelers in fine fashion. In NYC, volume was +507% over 2021 and saw Bud Light as the #1 poured beer (Guinness checked in at #3). Chicago, which goes as far as to dye the Chicago River green for the day, was +628% over 2021. Coors Light was the top-poured draft in the Windy City, while Guinness clocked in at #5.
What was going on in The 'Cuse?
It wouldn't be St. Patrick's Day without reporting on what happened in our home base of Syracuse, NY. Guinness was again the #1 beer poured in The 'Cuse on the holiday. Patrons were obviously happy to be back in their locals, as volume was +151% over the same day in 2021.

#####

About BeerBoard
BeerBoard is the leading technology and Automated Intelligence company enabling the food & beverage industry to make business decisions about its complete bar business. It manages over $1 billion in bar sales and 55,000 products through its industry-leading solution. The company's patented digital platform captures, analyzes, and reports real-time data related to bar performance, brand insights, ordering and inventory. Built for retailers, brewers and distributors, the versatile platform is easily operated from a single dashboard, and it has streamlined operations and increased top and bottom-line revenue all over the United States. Find out more about how BeerBoard is changing the bar industry through data-based business decisions at  beerboard.com.