Leader in technology and automated intelligence releases a report on draft beer performance year-to-date
SYRACUSE, NY (April 7, 2022) —  In honor of National Beer Day, BeerBoard just released our newest insights into the draft industry, offering a quick look at consumer trends, brand performance and more.
The leader in technology and automated business intelligence for retailers, brewers and distributors compiled statistics from its robust client list featuring neighborhood bars, high-profile independent groups and major chains across North America such as Buffalo Wild Wings, Hooters, WingHouse, Twin Peaks, Mellow Mushroom and TGI Fridays. The National Beer Day report indicates that 2022 will continue the industry trend toward pre-COVID numbers as cases and restrictions become less prominent.
"On-premise draft performance continues to grow, which is exciting and a good sign for the industry," said BeerBoard Founder and CEO Mark Young. "This report also indicates why having these insights in real-time is vital for a retailer, brewer or distributor. When brands such as Modelo Especial are making huge jumps in popularity, and consumer trends indicate craft beer is becoming more prominent, managers and draft providers need to be able to adapt their ordering and inventory strategies accordingly."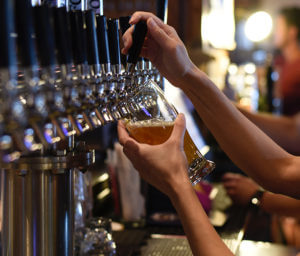 What Are We Looking At?
As 2022 continues its trend toward a "return-to-normal" for the on-premise — or as close to normal as we can get with COVID-based restrictions all but gone across the country — this report takes a quick glance at 2022 year-to-date draft performance and also compares it to 2021 returns.
The Volume Arrow Points Up
2022 year-to-date, on-premise monthly volume is +8.1%. It is an even more robust +21.4% when compared against the same period in 2021.
Craft Siphoning Share and Taps
Craft has seen +11.2% growth in volume share in the first three months of 2022, while also climbing +5.6% in tap share. Comparatively, Domestics have fallen -8.9% in volume and -11.3% in tap share. Imports have performed well despite losing -7.1% in tap share, as the category has seen a +7.1% spike in volume during the period.
Style Trends See Light Lager in Decline
Light Lager has experienced a dip in monthly volume share for 2022 year-to-date, falling -6.4%. The style is also -3.1% when compared to the same period in 2021. Lagers are +3.5% since the start of 2022, and +0.6% vs. 2021 YTD. IPAs and Belgian Wit / White Ale are the biggest moves among the top styles, seeing growth of +9.0% and +8.9%, respectively, so far in 2022. When stacked against the same period in 2021, IPAs are +0.7% and Belgian Wit / White Ale is +0.5%.
Top Brands See A Bump
Brands typically among the leaders have seen solid growth to date in 2022. Modelo Especiál, the #6 brand overall, has enjoyed growth of +24.1% when compared to the same period in 2021. Michelob Ultra, the #2 brand, is up +18.7% over 2021 YTD, while Miller Lite (#3 brand) is +17.4%.

#####

About BeerBoard
BeerBoard is the leading technology and Automated Intelligence company enabling the food & beverage industry to make business decisions about its complete bar business. It manages over $1 billion in bar sales and 55,000 products through its industry-leading solution. The company's patented digital platform captures, analyzes, and reports real-time data related to bar performance, brand insights, ordering and inventory. Built for retailers, brewers and distributors, the versatile platform is easily operated from a single dashboard, and it has streamlined operations and increased top and bottom-line revenue all over the United States. Find out more about how BeerBoard is changing the bar industry through data-based business decisions at  beerboard.com.